Find Out More with Proven Hypnosis Quizzes- Instant Results
Welcome to the Hypnosis Quizzes Page!
Here you will find five different short hypnosis quizzes (don't worry, there are no right or wrong answers, and you won't be hypnotized)!  Each quiz may give you a little insight about you and how you may benefit from hypnosis.
The Hypnosis Quizzes…
Firstly, everyone wants to know if they can be hypnotized or not, right?  So, you can find out if you are hypnotizable in the first quiz below.  Secondly, have you ever tested your memory?  Quiz two has you covered.  Empirical studies have shown the benefits of hypnosis for improving memory.  Thirdly, you may think you have it all under control, but what will the quiz say about you and your stress?  Find out in the third quiz below.  Moreover, stress can be absolutely detrimental to our health, and hypnosis can help manage and even cope with stress.
Fourthly, have you checked in on you and your image of yourself?  How you feel about your body and the image of yourself plays a significant role in how you act and who you become.  What's more, why not allow hypnosis help you put your best foot forward?  Finally, self-esteem can hold some people back while it can propel other people forward.  There's a quiz for that too!  In fact, hypnosis can help you realize your true and best self so that you become the best version of you!
Click each of the hypnosis quizzes button below to take the quiz!  Then, learn more on how hypnosis can help!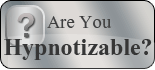 "Most people think they aren't. But, in fact, 95% of people are hypnotizable. How do you measure up?  The following quiz is designed for you to gain a better understanding into how you might react in different situations and how those reactions form patterns to determine how you process information."  ~IMDHA

"Memory is the process of retaining and retrieving information that is stored in the mind. There is no question that hypnosis is an excellent tool to enhance memories by improving the methods by which we create and retrieve them."  ~IMDHA

"Stressful situations are a part of everyday life. How it affects our health is largely dependent on how we respond. The following quiz is designed for you to better understand how well you manage stress." ~IMDHA

"Body image impacts our life by affecting how we feel about our self, how we project our self, and how we take responsibility for our personal best.  Is your body image getting in the way of enjoying a healthy, happy and fulfilling life? Take this quiz to find out where your body image stands now–and how you can improve it."  ~IMDHA

"Your self esteem is a direct reflection of what you think and how you feel about yourself. Use this self esteem assessment as a guide, keeping in mind that once you become consciously aware of your level of self esteem you can begin to make better choices that will in turn, create a healthier self image."  ~IMDHA